Sydsvenskan skriver om Malmös konstår – Lilith är med på Listan med 2 nya performance!
En av Guldlejonvinnarna i Vendig, Lina Lapelyté, kommer skapa ett nytt storskaligt performanceverk på Lilith i höst!
Det är vi mycket glada för…och vi är mycket glada för att visa Henrik Lund Jørgensen i vår, som kommer skapa ett performance som kretsar kring ett verkligt öde med en mans minnesförlust och frågan vad som är äkta och vad som är fabricerat.
"Men litauiska Lina Lapelytė kommer att bli en van besökare av Malmö i år. För i höst sätter hon i Malmö upp sitt första stora arbete efter "Sun & Sea" och det gör hon på Lilith Performance Studio.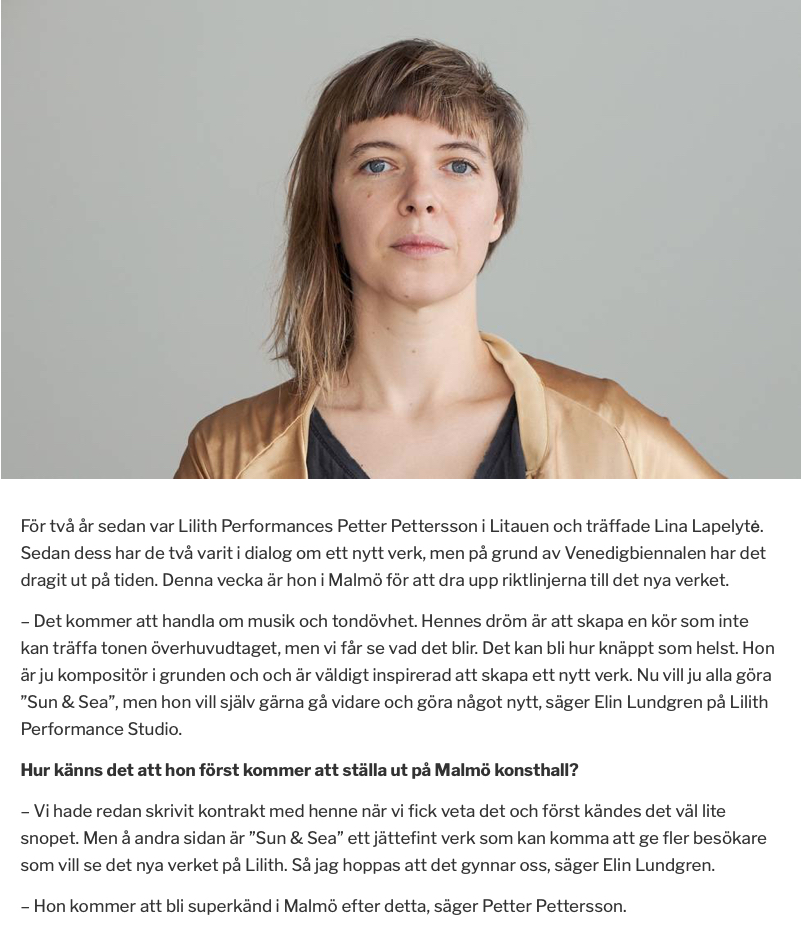 För två år sedan var Lilith Performances Petter Pettersson i Litauen och träffade Lina Lapelytė. Sedan dess har de två varit i dialog om ett nytt verk, men på grund av Venedigbiennalen har det dragit ut på tiden. Denna vecka är hon i Malmö för att dra upp riktlinjerna till det nya verket.
– Det kommer att handla om musik och tondövhet. Hennes dröm är att skapa en kör som inte kan träffa tonen överhuvudtaget, men vi får se vad det blir. Det kan bli hur knäppt som helst. Hon är ju kompositör i grunden och och är väldigt inspirerad att skapa ett nytt verk. Nu vill ju alla göra "Sun & Sea", men hon vill själv gärna gå vidare och göra något nytt, säger Elin Lundgren på Lilith Performance Studio.
Hur känns det att hon först kommer att ställa ut på Malmö konsthall?
– Vi hade redan skrivit kontrakt med henne när vi fick veta det och först kändes det väl lite snopet. Men å andra sidan är "Sun & Sea" ett jättefint verk som kan komma att ge fler besökare som vill se det nya verket på Lilith. Så jag hoppas att det gynnar oss, säger Elin Lundgren.
– Hon kommer att bli superkänd i Malmö efter detta, säger Petter Pettersson."
"Den 23 april till den 9 maj kommer Henrik Lund Jørgensen att sätta upp ett performanceverk som kretsar kring ett verkligt öde med en mans minnesförlust och frågan vad som är äkta och vad som är fabricerat. Den 12–28 november är det dags för Lina Lapelytés performanceverk."
Jonas Gillberg, Dygnet Runt, Sydsvenskan 19 januari, 2020
https://www.sydsvenskan.se/2020-01-19/guldlejonvinnare-sa-blir-konstaret-i 

Sydsvenskan writes about the Art year of Malmö, Lilith is mentioned as one of the highlights!
One of Venedig's Gold Lion Winners, Lina Lapelyté, will create a new large-scale performance work at Lilith this fall!
We are very happy for this … and we are very happy to show Henrik Lund Jørgensen this spring, who will create a performance that revolves around a real fate with a man's memory loss and the question of what is genuine and what is fabricated.
"Lithuanian Lina Lapelytė will be a common visitor of Malmö this year. For this fall, she is putting up her first major new work after" Sun & Sea "in Malmö and she does so at Lilith Performance Studio.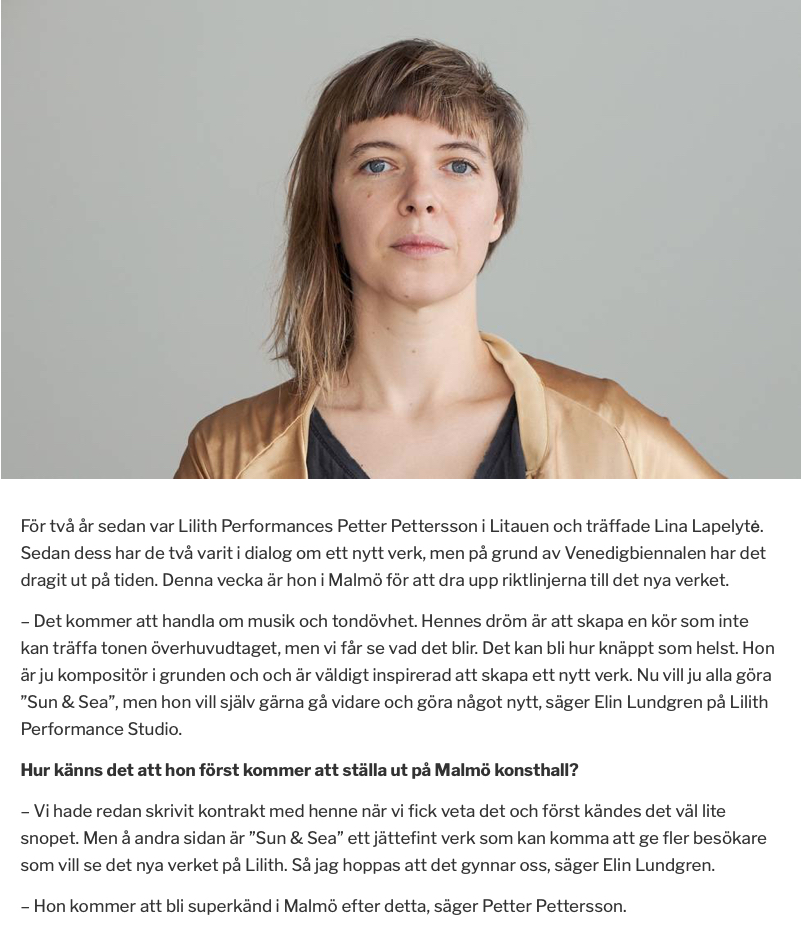 Two years ago, Lilith Performances Petter Pettersson was in Lithuania and met Lina Lapelytė. Since then, the two have been in dialogue about a new work, but because of the Venice Biennale, it has dragged on over time. This week she is in Malmö to draw up the guidelines for the new work.
– It will be about music and tone deafness. Her dream is to create a chorus that can't hit the tone at all, but we'll see what it becomes. She is basically a composer and is very inspired to create a new work. Now everyone wants to do "Sun & Sea", but she wants to go ahead and do something new, says Elin Lundgren at Lilith Performance Studio.
How does it feel that she will first exhibit at Malmö Art Hall?
– We had already signed a contract with her when we found out, and at first it felt like a little bit like aha… But on the other hand, "Sun & Sea" is a very fine work that may bring more visitors who want to see the new work on Lilith. So I hope it benefits us, says Elin Lundgren.
– She will become super famous in Malmö after this, says Petter Pettersson. "
"From April 23 to May 9, Henrik Lund Jørgensen will set up a performance work that revolves around a real fate with a man's memory loss and ask questions of what is genuine and what is fabricated. On November 12-28, it is time for Lina Lapelytés performances. "
Jonas Gillberg, Dygnet Runt, Sydsvenskan January 19, 2020  
[/tabs]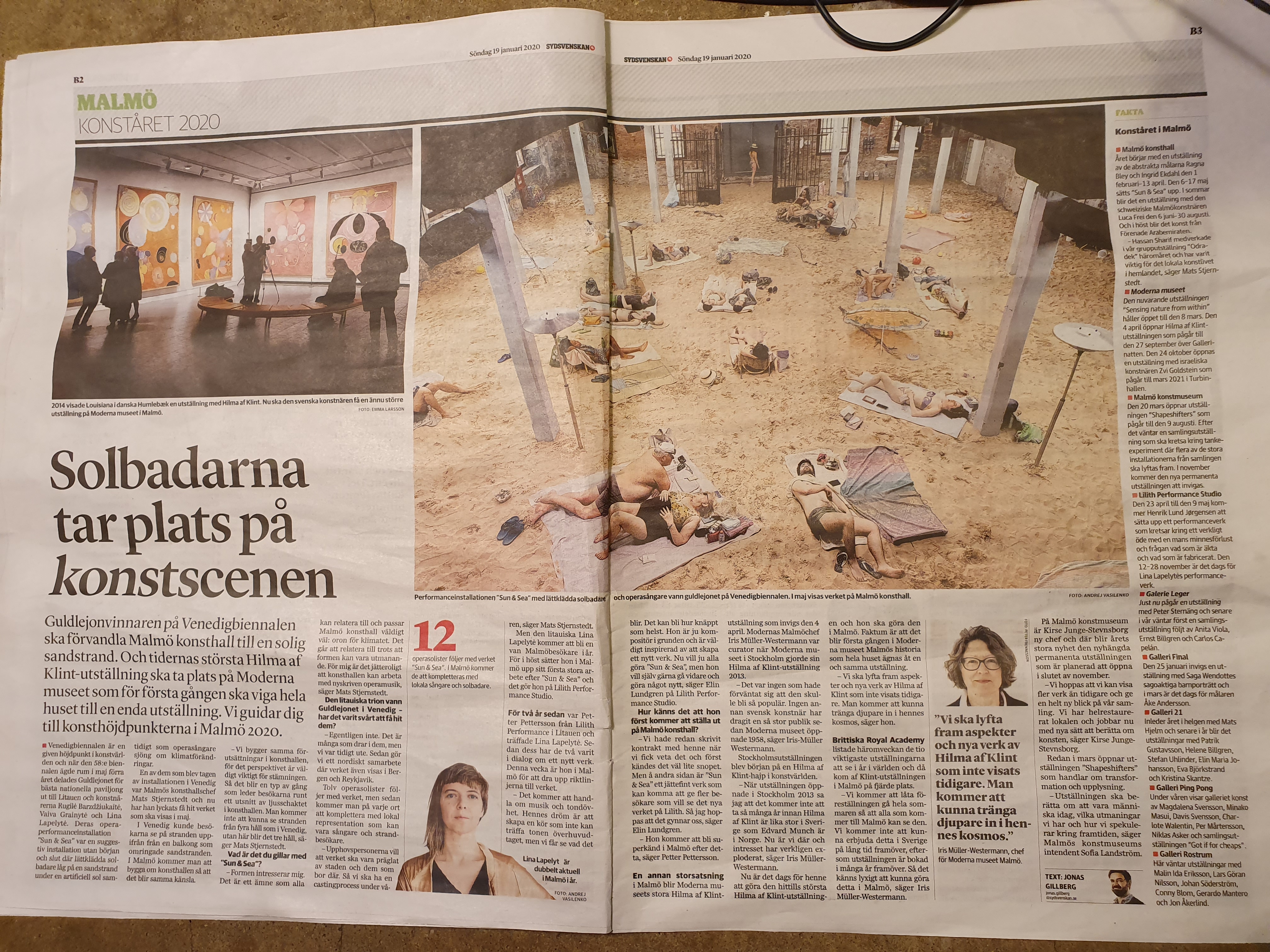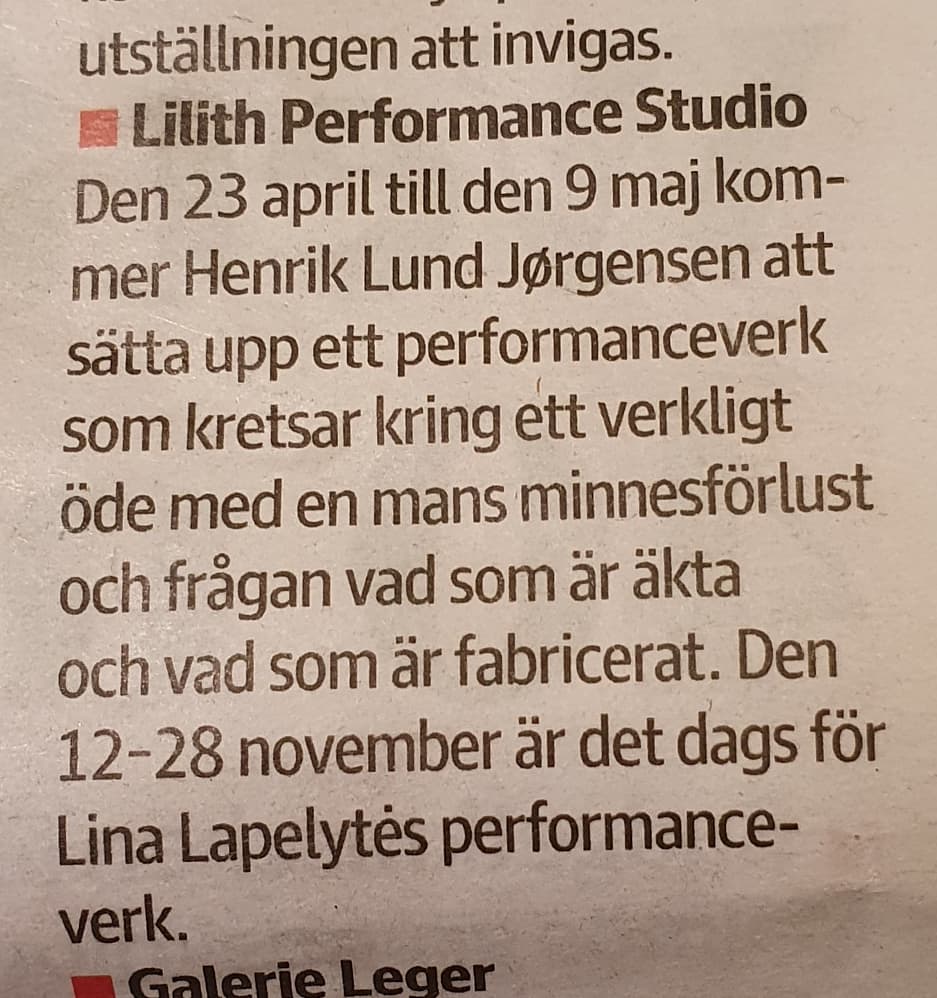 [/vc_column_text][/vc_column][/vc_row]